Tree climbing course
Come discover or rediscover the pleasure of flying from tree to tree, the adventure course includes 4 courses of progressive levels, from the easiest to the most difficult, using the same grading as the ski slopes (green, blue, red and black).
You can access to the 4 courses, no need to decide where to start, the upper course is only accessible once you have validated the previous one. You will evolve from 2.50 metres to 25 metres from the ground, on courses accessible to all.
To optimize your safety, our team of professionals, all CQP OPAH * qualified, will kit you out with a harness fitted with Bornack lanyards and a pulley. A continuous belaying is assured by the Bornack lanyards. These are made up of two carabiners "connected by a cable system" that can only be opened alternately to guarantee you stay attached all the time. Another obligatory stage before having fun: the Briefing !!! Your instructor will explain the handling of the equipment, the safety rules, and the practical advice.
After the briefing, the adventure is ready to begin !
The GREEN route (discovery, learning and education)
This course evolving between 50 cm and 3 metres 50 from the ground will allow you to familiarize yourself with your PPE (personal protective equipment), and to get used to handling your material at low level and close to our team of supervisors. The perfect course to learn while having fun thanks to the log bridge, the monkey bridge and your first zip line.
7 platforms
2.50 metres from the ground
The BLUE route (improvement, agility, height gain)
The route starts at a higher level and as you get closer to the Canyon of the Bear Valley from our Tibetan bridge, you will need to be at your agile best. Do you dare to let go your hands to cross the slackline? Will you still have strength after the relaxed monkey bridge ? The spider web will allow you to reach the last platform before getting back to ground level via a zip line !
7 platforms
2-7 metres high
The RED route (sensations, balance, height and sport)
The green course and the blue course did not put you off ? Did the monkey bridge not wear you out ? Come along then : RED where the key words are sensations, balance and height !
On the route you will fly close to the canyon! Swing on the Tarzan vine, climb to the top of the rope net, there you are ... there are 15 metres under your feet, you can no longer hear the supervisors over the noise of the river beneath you ! Don't worry though, they can hear you and are keeping an eye on you all the way.
The hardest part remains to be done, 8 metres crossing on ropes stirrups suspended more than 15 metres from the ground. This is the platform to get to, for those who want to face the most physical of our courses: the BLACK !
7 platforms
3-15 metres high
The BLACK route (a love of heights, emotions, audacity and energy are essential !)
You'll need to be strong and full of energy for this course. Twenty intense minutes on average between 5 metres and 22 metres above the ground will feel like a hard work out ! Are you ready for it ?
You start on a rope ladder, crawling to cross the second platform of the Black course ! After a short rest on the swings and on the monkey bridge you'll be ready to confront the Tibetan candles. Concentration, strength and balance will be necessary to cross these !
The instructors will be watching you at all times, but you are alone in your effort. Smile and enjoy the big zipline on the Black course! But you will have to cross the canyon again, and your pulley won't help you on this crossing - only your balance and your concentration will get you across highest Tibetan bridge in Tarentaise ! That's the platform that you've had your eyes on from the start - the flying snowboard !
You can spend anywhere between 1 hour to 2:30 hours on our tree top course, depending on your speed and your ability. Come and spend an afternoon by a pretty mountain stream, in an exceptional natural setting and supervised by a team of qualified professionals *
12 platforms
5 to 25 metres above the ground
* Professional Qualification Certificate, Acrobatic Height Opera
Access to 4 courses of progressive levels, from 4 meters to 25 meters from the ground

Adventure base in Belle Plagne

Adults and children from 8 years old

Children 8 to 11 years old: 20€
12 years old and over: 25€
Children's Park Pass: 35€
Park pass for adults and children from 12 years old: 45€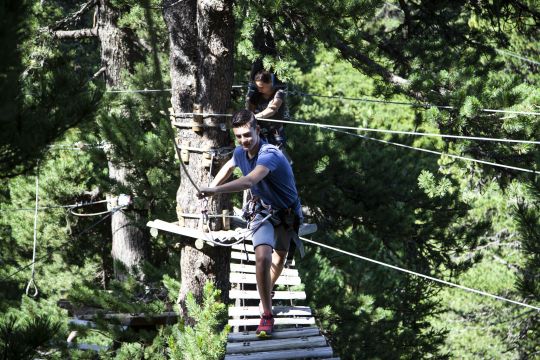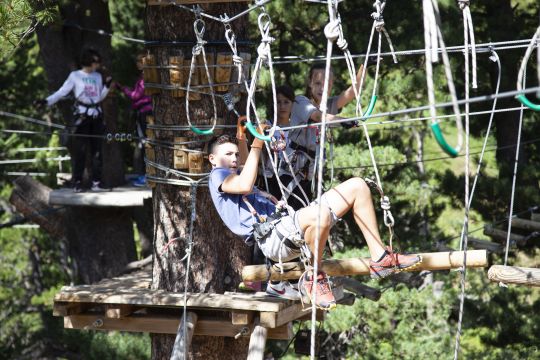 Information and prices
Tree climbing course :
| | |
| --- | --- |
| Children 8-11 years old* | 20€ |
| Adults and children from 12 years old | 25€ |
| Children's Park Pass 10-11 years old (Adventure Park + Zipline Waterfall) | 30€ |
| Park pass for adults and children from 12 years old (Adventure Park + Zipline Waterfall) | 45€ |
*45€ Mandatory presence of an adult for two children under 12 years old in the trees
This prestation includes
Our CQP OPAH monitors are there to support you and advise you during your visits to the workshops
A mandatory briefing to remind you of the safety rules and the equipment using instructions to evolve with confidence
100% safe thanks to individual equipment : harness, pulley, safety lanyards with smart carabiners : Clic-It technology*
To make your day pleasant will provide : several shaded areas near a small stream to relax and enjoy the fresh mountain air, and to take with you an unforgettable memory of this day you can count on the good mood of our Teams
Conditions
GREEN course / 130m: from 8 years old
BLUE course / 130m: from 8 years old
ROUGE ROUGE / 130m: from 8 years old
BLACK course / 145m: from 12 years old
To access our Adventure Course, you must be at least 8 years old!
Mandatory gloves on sale directly on site: 2 €
The start of the route is at our Belle Plagne Adventure Base
To participate at this day it is mandatory to book online or in our Belle Plagne store
For children under 12, they must be accompanied by an adult
In the event of a thunderstorm, the activity is postponed by decision of the monitors
Discover what else we have to other
Summer activities in La Plagne
Natural activities and sensations essential for your summer holiday in La Plagne.
Our Ski Shops & Boutiques
Discover our Ski Shops in Belle Plagne, Plagne Bellecote, Plagne 1800 and Plagne Centre and our shops, Napapirji-Superdry, Sun valley in Plagne Centre
Incentives seminars, Business day Meeting & Convention, Events & Evenings
In the heart of the Alps, in the resort and in the valley, we will be pleased to respond to your projects and organize your events à la carte.
Our strength: mastery of the speakers, of the material, and passion of our profession.