PRIVATE SKI SCHOOL - SKI
Tailor made lessons with your own personal instructor.
Whether you are putting skis on for the first time or looking to improve your technique, this is the best way to learn quickly. Spend a day with an instructor who will make your improvement his top priority.
For the more adventurous skiers private lessons can also allow you to go off-piste safely, accompanied by a professional.
Are you a beginner ?
Discover skiing with an ELPRO instructor who will take you onto the green, gentle slopes to help you gain assurance and learn the basics. The first approach aims to fill you with confidence and help you fall in love with skiing or snowbaording !
Are you comfortable on the slopes ?
This is for intermediate and experienced skiers who enjoy skiing the La Plagne ski area, but want to improve their technique.
Spend,an hour and a half, two hours, a half day, or a full day, or as much time as you like or need, to become the best verison of yourself on the slopes !
Are you an expert skier ?
Push yourself and try a new adventure exploring the off-piste slopes, freestyle parck, mogul, of the la Plagne domain. A half or full day accompanied by your state-certified instructor will teach you how to study the mountain environment in order to minimize its risks.
Every good skier should know the risks and know how to use safety equipment in order to stay safe in the mountains. During your course you will learn the use of the DVA *, the shovel and the probe.
You will then be recognised as officially aware of the mountain environment and thus able to go off-piste on your own !!!
Possibility to get learning on freestyle snow park, rail, border cross skiing.
You want to dowhill moguls as Edgar Grospiron or our 5 times world champion Eric Laboureix? some of our instructors can learn you technic on moguls.

* DVA = Avalanche Victim Detector or Avalanche Victim Search Device (ARVA, registered trademark) is an electronic device that emits and receives a particular radio signal, intended to help quickly locate a person buried under snow after an avalanche, by another DVA device.
Our instructors
Mathieu
LEROY
For the most demanding skiers our private lessons allow fast learning because the program is tailor-made to your expectations.

Meet at the ELPRO SKIMIUM store in Plagne Centre, place de la cheminée

ELPRO Ski School welcomes children and adults

Low season from 85€
Mid season from 85€
High season from 90€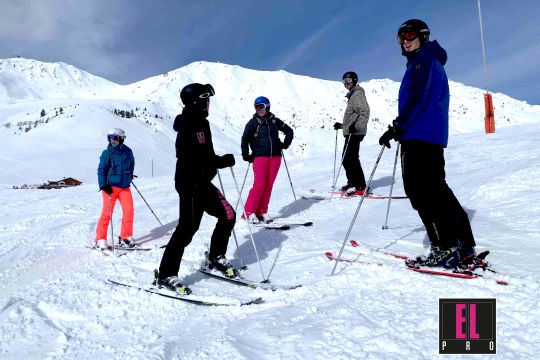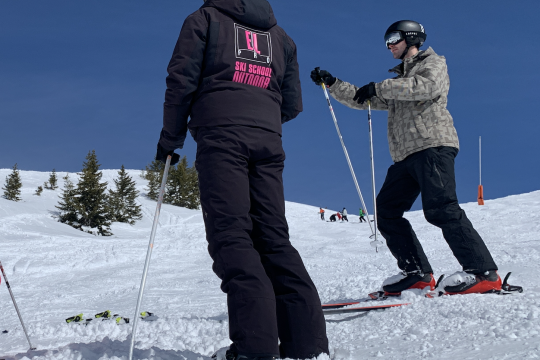 Information and prices
Winter is divided into three types of seasons: Low, Medium, High.
ELPRO offers you different package :
Cours privés (1 à 5 personnes)

BASSE SAISON
16/12/2023 -> 23/12/2023
07/01/2024 -> 10/02/2024
10/03/2024 -> 30/03/2024

MOYENNE SAISON
24/12/2023 -> 30/12/2023
31/03/2024 -> 27/04/2024

HAUTE SAISON
31/12/2023 -> 06/01/2024
11/02/2024 -> 09/03/2024

Cours de 1h30 jusqu'au 10/02

12h25 / 13h55

85€

85€

90€

Cours de 2h00 à partir du 11/02

12h25 / 14h25

115€

120€

125€

Cours de 2h45 – Matin

9h15 / 12h00

195€

215€

260€

Cours de 2h45 – Après-midi

14h00 / 16h45

14h30 / 17h15 (à partir de février)

160€

175€

199€

Cours à la journée

9h15 / 16h30

9h15 / 17h00 (à partir de février)

355€ : du 16 au 23/12 et du 7/01 au 10/02

379€ : du 10/03 au 30/03

430€

499€
After 5 persons, 15€ extra / pers / hour
This prestation includes
SKI SCHOOL PRIVATE ELPRO
All ages, young and old
Initiation, improvement, leisure
A few hours, a few days or an entire season
Graduated professionals
Personalized service
Teaching in the main European languages
Priority access to the ski lifts
Permanent radio link between the instructor and our ski school
Bag, shovel, probe, avalanche transceiver for off-piste lessons
A permanent link between our teams and our offices
Conditions
Ski equipment adapted to practice
La Plagne or Paradiski ski pass
Reservation required online or in our ELPRO Skimium store in Plagne Centre