Junior course
Are you looking for a fun activity for your children to do during holidays or weekends? ELPRO offers a tree top course for toddlers in the heart of La Plagne.
On our tree top courses, your children can have fun in complete safety. Indeed, equipped with a Ouistiti harness, safety lanyards and carabiners and after listening to the instructions to handle the equipment, your children will be able to move from tree to tree and from the net to the slide !!!
The monkey climbers can move between and around the various platforms, all in complete safety, after a briefing from the instructor !
A shaded tree climbing route for children from 4 to 7 years old (accompanying adult required for 4 years olds) in a natural and exceptional setting in the Tarentaise. On this adventure course, suitable for young people, your little ones can progress from platform to platform with 9 workshops up to 2.50 m above the ground
A monkey bridge
A Tibetan bridge
A slide
A climbing net
A trap, or tunnel net
A lumberjack bridge
The Tarzan creeper
A narrow walking net
A climbing wall to reach the Junior Parc gondola !!!
This junior adventure course is fully secure. All change overs are done on platforms which are fully secured by safety rails. We have created this educational course to teach your children how to handle the equipment and make them aware of the importance of safety elements.
For the smooth running of the activity, you have the permanent presence of a CQP OPAH Supervisor throughout the duration.
For all children of 4 years old, a responible adult must accompny them on the course. For children of 5-7, presence on the ground only of a responsible adult is required.
You can combine the junior park with the giant Zip wire also accessible from 4 years old.
Initiation and discovery of the activity in complete safety with 9 workshops up to 2.50 m above the ground

Adventure base in Belle Plagne

Children 4 to 7 years old
Accompanying adult (accompanying adult for 4 year olds)
Children 4 to 7 years old: 18€
An adult is necessary on the junior course for toddlers to assist them if necessary.
Junior Pass: 20€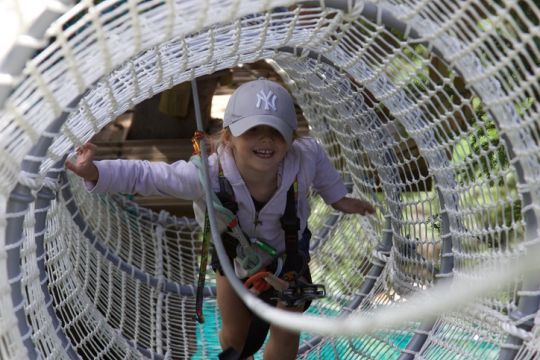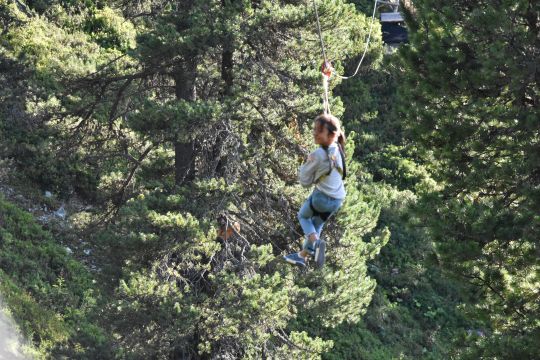 Information and prices
Junior course :
| | |
| --- | --- |
| Children from 4 to 7 years old* | 18€ |
| Junior pass (Junior Park + giant zip line) | 23€ |
| Accompanying adult on Junior Parc | Free |
* Mandatory presence of an adult in trees for 4 year olds
Book on line
This prestation includes
Flawless security with one equipment per person: harness, safety lanyards and carabiners
The instructions to follow with a safety briefing and use of equipment to practice the activity with confidence
CQP OPAH * monitors to supervise your children and help them pass the levels
For more comfort during the day: dry toilets are available, shaded and pleasant spaces near a stream to feel the fresh air and relax, for a better memory you can count on the good humor of our Teams .
* Professional Qualification Certificate, Acrobatic Height Operator
Conditions
Dear Kid !
"To access our Junior park, you must be at least 4 to 7 years old!"
"Before coming to have fun with us, ask your parents to book online or in our Belle Plagne store, but hurry places are limited!"
"If the weather changes and the thunderstorm rumbles, the activity is postponed, on the decision of your monitors"
"If you are 4 years old, an adult must accompany you"
"And above all, don't forget to come with your best smile!"

Charly
Discover what else we have to other
Activities winter, Ski school & Snowboard
ELPRO is a reference on the Domaine de La Plagne in terms of Outdoor and Adrenaline activities.
Our Ski Shops & Boutiques
Discover our Ski Shops in Belle Plagne, Plagne Bellecote, Plagne 1800 and Plagne Centre and our shops, Napapirji-Superdry, Sun valley in Plagne Centre
Incentives seminars, Business day Meeting & Convention, Events & Evenings
In the heart of the Alps, in the resort and in the valley, we will be pleased to respond to your projects and organize your events à la carte.
Our strength: mastery of the speakers, of the material, and passion of our profession.